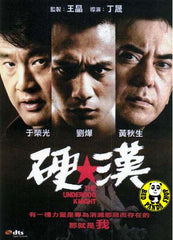 Region Coding: Region Free

Starring: 
Liu Ye
Anthony Wong
Yu Rong Guang
Ellen Chan
You Yung
Liu Yang
Sun Hong Lei
Otto Wong
Director: 
Ding Cheng
Producer: 
Wong Jing

Audio Tracks: 
Dolby Digital 5.1

Languages: 
Cantonese, Mandarin

Subtitles: 
English, Traditional Chinese, Simplified Chinese

Running Time: 
93 minutes

Distributor:
Vicol Entertainment Ltd. (HK)

Release Date:
26 Aug 2010

Synopsis:
Lao San (Liu Ye) was a naval officer and retired due to a brain injury, he became naivety. Though retired, he firmly believed that he was a Force against evil. He kept bashing cirminals but creating troubles, and it dismayed his girlfriend Deffodil (Liu Yang) and the Police Commissar Lao Jiang (You Yong). The national treasure "Yue Fei's spear" would go on exhibition and caught the attention of the criminal boss Rong (Anthony Wong).

On the day of exhibition, Rong, together with his girlfriend Nancy (Ellen Chan), and ruthless killer Chang (Otto Wong) broke into the exhibition hall. When Rong was run away with the spear, Lao Jiang and Lao San besieged the hall. A fight into death among these three men ensued....

More items to consider...