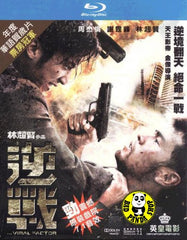 Region Coding:
Region A (Locked)


Starring: 
Nicholas Tse 謝霆鋒
Jay Chou 周杰倫
Andy On 安志杰
Michelle Bai 白冰
Liu Kai Chi 廖啟智
Elaine Kam 金燕玲
Philip Keung 姜皓文
Hung Tin Chiu 洪天照
Lin Peng 林鵬
Deep Ng 吳浩康
Carl Ng 吳嘉龍


Director: 
Dante Lam 林超賢

Action Directors: 
Dante Lam 林超賢
Chin Ka Lok 錢家樂

Audio Tracks: 
Dolby TrueHD 7.1, DTS-HD Master Audio

Languages: 
Cantonese 粵語

Subtitles: 
English, Traditional Chinese 繁體中文字幕, Simplified Chinese 簡體中文字幕

Running Time: 
122 minutes

Distributor:
Vicol Entertainment Ltd. (HK)

Release Date:
29 March 2012 / re-release 19 Dec 2019

Synopsis:
IDC Agent Jon sustains grave injuries on a mission and decides to spend his final days with his mother. She tells him a long-held secret. To fulfill her wishes, Jon goes to southeast Asia. He befriends medical specialist Rachel. When she is forced into the schemes of a criminal organization, Jon attempts rescue and becomes the target of the organization that includes his estranged brother Yang! When the organization betrays Yang and kidnaps his daughter Sheng, the brothers join forces to rescue Rachel and Sheng.
More items to consider...