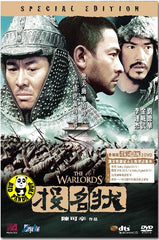 Region Coding: Region 3 (Locked)

Starring: 
Jet Li
Andy Lau
Kaneshiro Takeshi
Xu Jing Lei
Director: 
Peter Chan

Audio Tracks: 
DTS-ES 6.1
Dolby Digital EX
THX Surround EX

Languages: 
Cantonese, Mandarin

Subtitles: 
English, Traditional Chinese, Simplified Chinese
Number of DVD: 
2 discs

Running Time: 
127 minutes

Distributor:
Mega Star (HK)

Release Date:
04 Feb 2008

Synopsis:
China in the mid-19th century: the suffering of 430 million Chinese under the corrupt rule of the Qing dynasty set the stage for the Taiping Rebellion. During the chaos of the decade long civil war, 50 million people died in battle or from starvation...

In the autumn of 1870, General Pang (played by Jet Li) stands high atop the city walls attired in official governor's robes. Peering down upon the site of his inauguration, he is filled with ambition and dreams. Pang has taken a path of no return; had he chosen differently, he might have been one of the heroes to later overthrow the corrupt Qing imperial regime and establish a new China. He could have changed the course of history....

But two bandits and a woman are responsible for changing the course of his life - they help him achieven his goals, but will ultimately be the cause of his demise. The two bandits are his sworn blood brothers: Zhao Er-Hu (played by Andy Lau) and Jiang Wu-Yang (played by Takeshi Kaneshiro). The woman who comes between them is Zhao's wife Lian (played by Xu Jingle). A born leader, Zhao Er-Hu is a man of honor. To ensure the survival of his village during the war, he leads a band of marauding bandits. They raid other impoverished villages, but leave theri victims with enough to sustain themselves. Zhao maintains a code of honor, displaying compassion for the poor. Sharing the spoils with his villagers, he has earned their loyalty and respect. The two loves of his life are his wife Lian, and his little brother Jiang Wu-Yang who he adopted when Jiang was orphaned at the age 13.

Jiang Wu-Yang is a charismatic outlaw, a cold-blooded killer filled with romantic idealism. He possesses both the callousness and the innocence of youth. He is like an animal operating on instinct but also values the ties of brotherhood. When Pang risks his life to save him, taking an arrow for him in a battle against the Taiping rebels, Jiang is indebted to Pang and develops an intense attachment. He worships Pang, putting him above all others - even Zhao the brother who adopted him.

After Qing troops pillage Zhao's village, Pang convinces Zhao and his bandits to join the Qing army. Jiang agrees to the proposal under the condition that Pang joins their brotherhood. With the future interests of the village in mind, Zhao also agrees to make Pang his blood brother, and relinquishes his role as leader and "big brother." Pang's initial motive is to end war and restore peace to the land - to do so he must first rise to power. With the help of Zhao, Jiang and their bandits, Pang establishes the Shan Regiment under the Qing army to counter the Taiping Rebels.

As his forces grow more powreful over the years so does his ambition. Corrupted by his hunger for power, Pang soon stops at nothing to eliminate his enemies and achieve his goal, including the massacre of 4,000 prisoners of war who Zhao vowed to protect. As a result, the brotherhood collapses. Zhao severs his ties with Pang while Jiang remains devoted to Pang, and his promise of a better future. But Pang's ruthlessness and his desire for Lian, Inevitably leads him to murder Zhao. Poised to become governor, Pang is about to ascend the platform for his inauguratin, literally just a step away from the seat of power. But his past betrayals, including the murder of his brother Zhao Er-Hu, catch up with him. At his moment of glory, his life ends at the hands of an assassin - his beloved brother Jiang.
More items to consider...