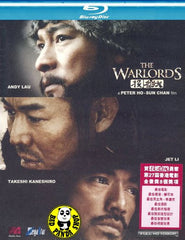 Region Coding: Region A (Locked)

Starring: 
Andy Lau
Jet Li
Kaneshiro Takeshi
Xu Jing Lei

Director: 

Peter Chan Ho Sun
Audio Tracks: 
Dolby Digital 5.1, Dolby Digital EX, THX Surround EX

Languages: 
Cantonese, Mandarin

Subtitles: 
English, Traditional Chinese

Running Time: 
127 minutes
Distributor:
Mega Star (HK)

Release Date:
18 July 2008

Synopsis:
It's a heroic tale of three blood brothers and their struggle in the midst of war and political upheaval. It is based on "The Assassination of ma," a Qing Dynasty (164-1911) story about the killing of general Ma Xinyi. The story was filmed by Zhang Che in 1973 as The Blood Brothers.
More items to consider...