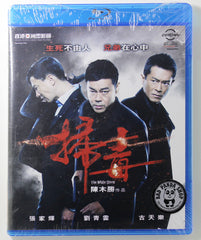 Region Coding: Region A (Locked)

Starring:
Lau Ching Wan 劉青雲
Nick Cheung 張家輝
Louis Koo 古天樂
Lo Hoi Pang 盧海鵬
Poyd
Ken Lam
Elanne Kwong
Yuan Quan 袁泉
Alex Fong
Hou Yong

Director:
Benny Chan 陳木勝

Audio Tracks: 
DTS-HD Master Audio 7.1, Dolby Digital 5.1

Language: 
Cantonese 粵語, Mandarin 國語

Subtitles:
English, Traditional Chinese 繁體中文字幕, Simplified Chinese 簡體中文字幕

Running Time: 
135 minutes

Distributor:
Universe (HK)

Release Date:
29 Jan 2014

Synopsis:
Lifelong friends Tin (Sean Lau), Chow (Louis Koo) and Wai (Nick Cheung) all work
for the Hong Kong Police Department's Narcotics Bureau. The three law enforcers
would readily risk their lives for each other, but a dangerous mission in Thailand
to capture the legendary drug lord, Eight-Faced Buddha, puts that to the test.
In Thailand, the covert goes bad at the last minute, and a battle breaks out. The
three friends are confronted by a tragic emotional dilemma...

Five years later, burdened with personal hardship, two friends are still seeking to
revenge the loss of a third. Friendship turns into rivalry and brotherhood must be
sacrificed once again. A war between good and evil unfolds, and there's no
turning back!


movie trailer (English subtitle)

More items to consider...