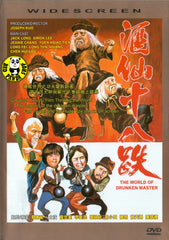 Region Coding: Region Free

Starring: 
Jack Long
Simon Lee
Jeanie Chang
Yuen Hsiao Tien
Long Fei
Long Ten Hsiang
Chen Hui Lou

Director: 
Joseph Kuo Nan Hong


Audio Tracks: 
Dolby Digital

Languages: 
Cantonese, Mandarin

Subtitles: 
English, Traditional Chinese, Simplified Chinese


Running Time: 
88 minutes

Distributor:
Mei Ah Entertainment (HK)

Release Date:
17 Jan 2002

Synopsis:

Su Hua-Tzu and Fan Ta-Pei are caught stealing grapes by a wine maker named Chang Chi. They are forced to work in the distillery as compensation. Knowing they are well endowed with natural martial arts abilities, Chang decides to teach them kung fu.
More items to consider...