Three Kingdoms: Resurrection Of The Dragon 三國之見龍卸甲 Blu-ray (2008) (Region A) (English Subtitled)
$34.99 USD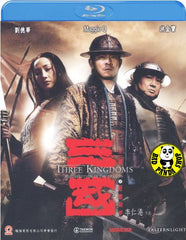 Region Coding: Region A (Locked)
Starring: 
Andy Lau 劉德華
Sammo Hung 洪金寶
Maggie Q
Damian Lau 吳彥祖
Ngok Wah 岳華
Ti Lung 狄龍
Pu Cunxin
Vanness Wu
Andy On

Director: 

Daniel Lee 李仁港


Audio Tracks: 
DTS Digital Surround, Dolby Digital

Languages: 
Mandarin 國語

Subtitles: 
English, Traditional Chinese 繁體中文字幕, Simplified Chinese 簡體中文字幕

Running Time: 
102 minutes
Distributor:
Kam & Ronson Enterprises Co., Ltd.

Release Date:
08 Aug 2008

Synopsis:
His country torn asunder by civil war, ZHAO, a common man heeds the call of duty and from the humblest of roots rises through the ranks on wings of courage and cunning to command an army charged with liberating the land from an evil warlord.
Inspiring by action, honor and a dream of unifying his divided nation, Zhao's heroism becomes legend, but as the years pass and the throne changes hands the war still rages on. When a newly enthroned king decides peace can only be achieved by defeating the warlords once and for all, the ageing Zhao embarks on his final and greatest campaign, a road to adventure that will crown his name in glory for all time.
Special Features:
- Making-of
- Cast / Director Interviews
- Behind the scene Footage
- Traileres & TV Spots
More items to consider...