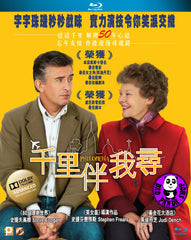 Region Coding: Region A (Locked)

Starring:
Judi Dench
Steve Coogan
Sophie Kennedy Clark
Anna Maxwell Martin
Ruth McCabe
Barbara Jefford

Director:
Stephen Frears

Audio Tracks: 
Dolby TrueHD Advanced 96k Upsampling, Dolby Digital EX

Languages: 
English

Subtitles:
English, Traditional Chinese, Simplified Chinese

Running Time: 
- minutes (TBA)

Distributor:
Panorama (HK)

Release Date:
10 June 2014

Synopsis:
Philomena Lee, an Irishwoman in her 70s, became pregnant as a teenager in 1952. Her family abandoned her for shame and send her to a convent. In compensation for the nuns taking her in and looking after her during childbirth she was made to work in the laundry there and only allowed access to her young son Anthony for an hour a day. When he was only three, the nuns at Roscrea had agreed to sell Anthony for adoption by an American family against her will. Philomena spent the next 50 years trying in vain to establish his whereabouts. 

Through a lucky set of circumstances she happened to meet Martin Sixsmith, an ex-BBC foreign correspondent and former director of communications for Tony Blair's government. When Philomena tells Martin about her long search for her son, he realises that hers is a remarkable story.

Philomena and Martin make an odd couple. She's a plain speaker and a trusting soul who takes people at face value. In contrast he is sophisticated, highly educated; yet cynical. Together they embark on an extraordinary road trip. On the way they learn from each other, see a different point of view – and find reasons for laughter and joy in a quest that is often underpinned by sadness.


movie trailer (Chinese subtitle)

More items to consider...