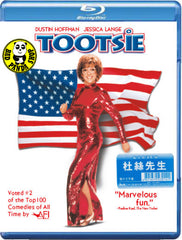 Region Coding: Region Free

Starring:
Dustin Hoffman
Jessica Lange
Teri Garr
Charles Durning
Bill Murray
Geena Davis

Director:
Sydney Pollack

Audio Tracks: 
DTS-HD Master Audio 5.0, Dolby Digital 5.1, Mono

Languages: 
English, Japanese, Spanish

Subtitles:
English, Traditional Chinese, Korean, Japanese

Running Time: 
116 minutes

Distributor:
Intercontinental Video Ltd. (IVL) HK

Release Date:
07 June 2013

Synopsis:
Desperate, he took a female role and became a star. If only he could tell the woman he loves.

Awards (29 wins & 23 nominations, won 1 Oscar):
Best Actress in a Supporting Role (Jessica Lange) of Oscar of Academy Awards 1983
Best Actor (Dustin Hoffman) of BAFTA Film Award of BAFTA Awards 1984
More items to consider...