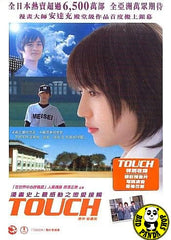 Region Coding:
Region 3 (Locked)

Starring:   
Saito Keita
Saito Shota
Nagasawa Masam  
Director: 
Inudo Isshin
Audio Tracks: 
Dolby Digital 5.1, 2.0, DTS Surround Extended

Languages: 
Japanese

Subtitles: 
English, Traditional Chinese

Running Time: 
116 minutes

Distributor:
Panasia Films

Release Date:
30 March 2006

Synopsis:
Based on Manga / comics "TOUCH" by Adachi Mitsuru

Tatsuya and Kazuya the twin brothers, have a mutual girl friend, Minami, who has been their playmate since they were babies. After they enter the same high school, Minami harbors a dream: To participate in the national high school baseball championship tournament at Koshien Stadium. In order to materialize it, Kazuya joins the baseball team of Meisei High School as an ace pitcher. He proves that he is talented as an athlete and as a student. He is considered a perfect match for Minami whose beauty and brightness win her the unanimous adoration of the high school students.

Meanwhile, Tatsuya is sloppy and, with poor academic records, far from the center of attraction. Evidently inferior to his twin brother, however, love has found its place in his heart, and his affection for Minami grows day by day. Though she feels Kazuya's attachment, Minami is rather attracted to Tatsuya than to Kazuya. As time goes by, it is Tatsuya who wins her first kiss.

The preliminary heats for the championship tournament begin, and the Meisei High School team wins game after game to the final, thanks to Kazuya's nice pitching. But in the morning on the day of the final, Kazuya gets involved in a traffic accident and dies. His ardent wish to take Minami to Koshien Stadium becomes Tatsuya's, who joins the baseball team as a pitcher just like Kazuya. But with little experiences as a baseball player, Tatsuya has to endure many hardships to play the part of his twin brother. Nevertheless, he is determined to get through the trial heats and go to Koshien for the championship tournament with his love...
More items to consider...