Tower of Death 死亡塔 (1981) (Region 3 DVD) (English Subtitled) Digitally Remastered aka Fists Of Fury
$17.99 USD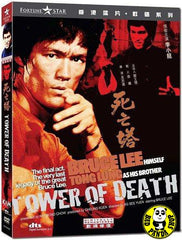 Region Coding: Region 3 (Locked)

Starring: 
Bruce Lee
Hwang Jang Lee
Tang Long
Roy Chiao

Director: 
Wu Si Yuan

Audio Tracks: 
Dolby Digital 5.1
DTS Digital Surround

Languages: 
English

Subtitles: 
English, Traditional Chinese, Simplified Chinese

Running Time: 
96 minutes

Distributor:
Kam & Ronson Enterprises Co., Ltd.

Release Date:
05 July 2012

Synopsis:
Kendo and martial art expert Jim Koo (Wong Ching-il)dies suddenly. His best friend, Lee Chun-Keung(Bruce Lee), is suspicious and wants to find out how he died. A helicopter with grappling hooks steals Koo's coffin during the helicopter's landing gear as it soars off, and plunges to his death. Chun-keung's younger brother, Chun-kwok (Tang Lung), has spent years perfecting his martial arts in a Buddhist temple. Upon hearing of his brother's death, he leaves his master (Roy Chiao) to investigate. Chun-kwok heads for the Castle of Death after learning that was one of the last places Jim Koo visited before his mysterious death....

More items to consider...