Truth Or Dare (2000) (Region Free DVD) (English Subtitled) Korean movie a.k.a. The Truth Game
$11.99 USD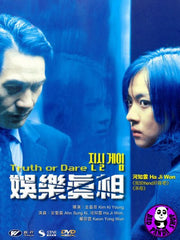 Region Coding: Region Free
Starring:
Ahn Sung Ki
Ha Ji Won
Kwon Yong Wun

Director:

Kim Ki Young
Audio Tracks:
Dolby Digital

Languages:
Korean

Subtitles:
English, Traditional Chinese, Simplified Chinese

Running Time:
105 minutes

Distributor:
Winson Entertainment Distribution Ltd. (HK)

Release Date:
18 March 2005

Synopsis:
It is the concert of Korea's most popular rock star, Cho Ha-rok. His fans are screaming his name in anticipation as Ha-rok lies dead with a syringe protruding his chest. An obvious drug overdose. Dae-hae, the leader of Ha-rok's fan club, confesses to the murder. Da-hae claims it was an act of rage in response to being raped by Ha-rok. Prosecutor Cho is assigned to the case of Cho Ha-rok. He re-opens the case encourage speculation and a media frenzy. Through his investigations, he finds out about Candle Parties which were sex and drug parties between fan club members and the artist. Conflicting statements from Da-hae's mother, fan club members and manager reveals her dual nature. To his dismay, he finds himself physically attracted to her....
More items to consider...