Twentieth Century Boys Trilogy (Region A Blu-ray Boxset) (English Subtitled) Japanese movie
$69.99 USD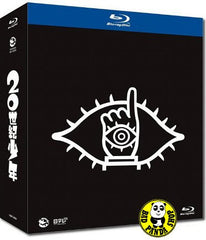 Region Coding: Region A (Locked)
Starring: 
Tokiwa Takako
Fujiki Naohito
Toyokawa Etsushi
Taira Airi
Yusuke Fumiyo
Ishibashi Renji
Kohinata Fumiyo
Nakamura Katsuo

Director: 
Tsutsumi Yukihiko
Audio Tracks: 
DTS-HD Master Audio, Dolby Digital

Languages: 
Japanese, Cantonese

Subtitles: 
English, Traditional Chinese, Simplified Chinese

Running Time: 
- minutes (see below)

Distributor:
Kam & Ronson Enterprises Co., Ltd.

Release Date:
13 April 2010

Number of Discs:
3 Blu-rays

Synopsis:

Twentieth Century Boys Chapter 1
1969 was a special year for Japan. It was a year before Expo '70, an event that marked Japan's progress and bright future. It was also the year that men first stood on the Moon. Everything indicated a path towards a promising future.

In the summer of 1969, Kenji was an elementary schoolboy. He built a secret base in a vacant lot with his friends Otcho, Maruo, Yoshitsune, Mon-chan, Donkey, Yukiji and Fukube. One of their secret activities included writing in the Book of Prophecy. In their Prophecy, the children fantasized that they had to fight villains who were out to conquer the world, bringing about doomsday.


Twentieth Century Boys Chapter 2
15 years have passed since Bloody New Years Eve and now it's 2015. People believe that kenji Endo and his friends were the satanic terrorists behind the hoorrific act that took place in 2000, the scheme to end humanity using a virus spitting gigantic robot. Kanna, Kenji's niece is now in high school. History textbook tells a fabricated account of Bloody New Year's Eve and Kanna openly resents it as she knows the truth.

The new Book of Prophecies describes the event, "In 2015 at a church in Shinjuku, a savior will rise to unhold justice and be struck by an assassin. "who is the savior? Again doomsday looms near.....


Twentieth Century Boys Chapter 3
It is the Third year of Friend, or 2017 on the old calendar. The world is governed by Friend. The virus-plagued Tokyo is now isolated from the rest of the world with towering walls and oppressive surveillance. Kanna left Yoshitsune to form a more militant group on preparation for an armed revoit. She is determind to go ahead with her radical activities despite the concerns of her surrogate mother, Yukiji. Maruo now works incognito as manager to national superstar singer Namio Haru. He finds Kiriko. On the outside of the wall dividing Tokyo from the world, a man tries to break down the maximum security border patrol station. He has a guitar with him. He calls himself Joe Yabuki. Is Kenji alive? What is Friend's last scheme for August 20? What is Friend's true identity?
More items to consider...