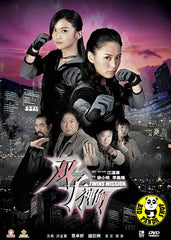 Region Coding: Region 3 (Locked)

Starring: 
Charlene Choi (Twins)
Gillian Chung (Twins)
Sammo Chung
Wu Jing
Yuen Wah
Zhang Qian

Audio Tracks: 
DTS 6.1
Dolby Digital 5.1

Languages: 
Cantonese, Mandarin

Subtitles: 
English, Traditional Chinese, Simplified Chinese

Running Time: 
102 minutes

Distributor:
Kam & Ronson Enterprises Co., Ltd.

Release Date:
04 April 2007

Synopsis:

A dZi bead from Tibet was on its way to Hong Kong for an exhibition, but was stolen by a mysterious gang with a possible link to a long-lost cult, the Gemini Clan. The guardian of the dZi bead Lucky and his adopted son Hey tried to solicit the help of the head of the Clan, the Principal, to track down the bead. Unwilling to come out of retirement, the Principal refused to get involved, but when Lucky was seriously wounded after another attack by the mysterious gang, the Principal reluctantly summoned the help of the Clan's former members - twins. In the meantime the suicide of an artifact dealer put the police hot on the heels of the Principal and his students. When Hey finally retrieved the bead, he mistakenly handed it to the Principal's twin brother, the Boss, who was the master mind behind the theft in an attempt to take over a prime piece of property along the coast.
More items to consider...