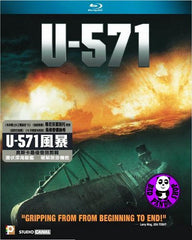 Region Coding: Region A (Locked)

Starring: 
Matthew McConaughey
Bill Paxton
Harvey Keitel

Director:
Jonathan Mostow

Audio Tracks:
English Dolby DTS-HD Master Audio 5.1
English Dolby Digital 5.1

Subtitles:


English, Traditional Chinese

Running Time:
116 minutes

Distributor:
Panorama HK Distributions

Release Date:
2 Jul 2010

Synopsis:
In This World War II Action thriller, American reconnaissance agents discover that a German U-boat is sinking. The doomed ship has an Enigma Machine, a special coding device that could help the Allies stop the incessant attacks of the German at sea. Therefore, an U.S. submarine is sent out to steal the Enigma Machine. However, German forces have already picked up the submarine's distress signal and are going to save their comrade...
More items to consider...