Ultraman Ginga S Movie Showdown! The 10 Ultra Warriors! 劇場版: 超人銀河S決戰超人十勇士 (2015) (Region 3 DVD) (English Subtitled) Japanese movie
$15.99 USD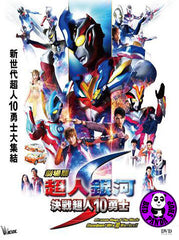 Region Coding: Region 3 (Locked)

Starring:
Takuya Negishi
Uji Kiyotaka
Taki Yukari
Kato Takahiro
Oura Ryuichi
Mogami Moga
Sugiura Taiyo
Komiya Arisa

Director:
Koichi Kakamoto

Audio Tracks: 
Dolby Digital 2.0

Languages: 
Japanese, Cantonese

Subtitles:
English, Traditional Chinese

Running Time: 
- minutes (TBA)

Distributor:
Vicol Entertainment Ltd. (HK)

Release Date:
24 March 2016

Synopsis:
Earth has regained peace, but is attacked by a new enemy with space-time powers. Musashi, Cosmos' host tells the UPG that the Ultra Warriors along with his Ultra, Ultraman Cosmos, have been sealed inside an evil space-time castle by a warrior woman named Arina. The fate of the entire world will be at stake.

More items to consider...