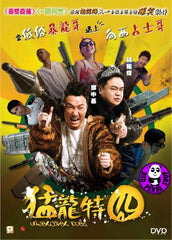 Region Coding: Region 3 (Locked)

Starring:
Ronald Cheng
Mark Wu
Ava Liu (Yu Kiu)

Director:
Mark Wu

Audio Tracks: 
Dolby Digital EX

Languages: 
Cantonese, Mandarin

Subtitles:
English, Traditional Chinese, Simplified Chinese

Running Time: 
- minutes (TBA)

Distributor: 
Panorama (HK)

Release Date:
20 Nov 2015

Synopsis:
Undercover cop Dream Dragon takes on a special operation, which is to protect his old-time buddy, flaunty James, during a male pageant contest. James being the only witness of a suspected substitute case that involves the son of the richest developer, the police uses the chance to bait the killer. But Dragon and James' incompatibility complicates matter for the operation.



movie trailer (English subtitled)
More items to consider...