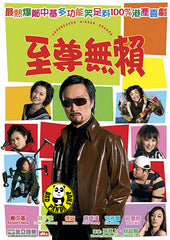 Region Coding: Region Free

Starring: 
Ronald Cheng
Pace Wu
Theresa Fu
Miki Yeung
Lam Tze Chung
Ella Koon

Director: 
Gordon Chan
Dante Lam

Audio Tracks: 
Dolby Digital 5.1, DTS Digital Surround

Languages: 
Cantonese, Mandarin

Subtitles: 
English, Traditional Chinese, Simplified Chinese

Running Time: 
99 minutes

Distributor:
Mei Ah (HK)

Release Date:
28 June 2006

Synopsis:

A low-rank triad member Fat is suddenly told by three charming sexy cops, "Actually you are a undercover..." He is given a mission -- to arrest his trial society's chairman. Under the cop's command, Fat goes to find out the criminal evidence of the Chairman. In fact, the chairman's wife is Fat's angel. He thinks the chairman always tortures her, so he wants to rescue her. Actually, chairman's wife is planning to displace her husband with the help of his follower, and now also with Fat's assistance. At the same time, the chairman is trying to cover his real identity by plots... Things become funnier and Fat is falling in love with one of the cops. Is Fat really an undercover? Or is he only a pawn in this game?
More items to consider...