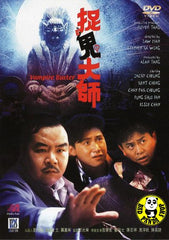 Region Coding: Region Free

Starring: 
Jacky Cheung 張學友
Kent Cheng 鄭則士
Nat Chan 陳百祥
Stanley Fung 馮淬帆
Elsie Chan 陳奕詩
Anglie Leung 梁韻蕊
Manfred Wong 文雋

Director: 
Roman Tam 羅文

Audio Tracks: 
Dolby Digital

Languages: 
English, Cantonese 粵語, Mandarin 國語

Subtitles: 
English, Traditional Chinese, Simplified Chinese

Running Time: 
94 minutes

Distributor:
Mega Star (HK)

Release Date:
17 June 2003

Synopsis:

A Great Priest trapped an evil student in a pottery. The pottery eventually re-appears in an auction in modern Hong Kong, is bought by Jackie son of well-known councilor Kay. Kay hires Master Chan who is in fact a fraud, to examine the pottery. By accident, Chan releases the evil from the pottery. Knowing that Kay has got the pottery, Master Cheung rushes to Hong Kong, but it is too late, the devil has possessed Kay. Master Cheung tries to convince Jackie but he does not believe him……
張天師後人張十一,獲悉被他祖先鎮壓在古董的惡魔;逃脫了在香港作惡,於是他偷渡來港設法制服惡魔。惡魔先依附在一個議員祁大川身上,後轉附在他女兒天真身上。大川的兒子天祐和他的女友,加上阿蕊的舊男友胡百通等幾經難苦,替張十一尋回兩件降魔寶物靈杵和曼陀羅,祇有將寶物合在一起才能消滅惡魔……
More items to consider...