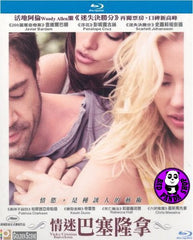 Region Coding: Region A (Locked)

Starring: 
Javier Bardem
Scarlett Johansson
Rebecca Hall
Penelope Cruz
Patricia Clarkson

Director:
Woody Allen

Audio Tracks:
English Dolby TrueHD 5.1
English Dolby Digital 5.1

Subtitles:


English, Traditional Chinese

Running Time:
96 minutes

Distributor:
Panorama HK Distributions

Release Date:
7 Oct 2010

Synopsis:
Vicky (Rebecca Hall) and Cristina (Scarlett Johansson) are best friends, but have completely different attitudes towards love. Vicky is sensible and engaged to a respectable young man. Cristina is sexually and emotionally uninhibited, perpetually searching for a passion that will sweep her off her feet. When Judy (Patricia Clarkson) and Mark (Kevin Dunn), distant relatives of Vicky, offer to host them for a summer in Barcelona, the two of them eagerly accept: Vicky wants to spend her last months as a single woman doing research for her Masters, and Cristina is looking for a change of scenery to flee the psychic wreckage of her last breakup.
More items to consider...