Virgin Theory: 7 Steps To Get On The Top (2014) (Region 3 DVD) (English Subtitled) Korean movie
$22.99 USD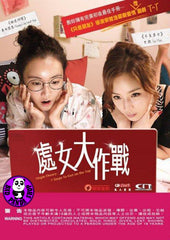 Region Coding: Region 3 (Locked)

Starring:
Hwang Woo Seul Hye
Sa Hee
Kim Jin Woo
Kim Jong Seok
Kong Ho Suk
Min Sung Wook
Oh Min Seok
Jeon Jae Hyeong
Sul Ji Yoon
Ahn Yeo Jin
Ga Won
Lee Se Yeon

Director:
Ahn Cheol Ho

Audio Tracks: 
Stereo

Languages: 
Korean

Subtitles:
English, Traditional Chinese

Running Time: 
- minutes (TBA)

Distributor:
CN Entertainment Ltd. (HK)

Release Date:
26 Sept 2014

Synopsis:
Mal-Hee (Hwang Woo Seul Hye) is a 33-year-old single woman. She works as an assistant professor in math and never had a boyfriend in her life. Mal-Hee wants to date a nice man like Sang-Woo (Kim Jin-Woo) whom she has known since she was young. Sang-Woo is younger than her.One day, Se-Young (Sa-Hee) appears in front of Mal-Hee. Se-Young used to be a painter specializing in nude portraits. Se-Young attempts to teach Mal-Hee about men. Will Mal-Hee ever date?

More items to consider...