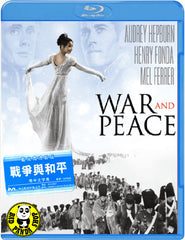 Region Coding: Region A (Locked)

Starring:
Audrey Hepburn
Henry Fonda
Mel Ferrer
Vittorio Gassman
Anita Ekberg
Oscar Homolka

Director:
King Vidor

Audio Tracks: 
Dolby TrueHD Mono, Mono

Languages: 
English, Japanese, Spanish, Portuguese

Subtitles:
English, Traditional Chinese, Simplified Chinese, Korean, Japanese, Thai

Running Time: 
- minutes (TBA)

Distributor:
Intercontinental Video Ltd. (IVL) HK

Release Date:
8 Oct 2013

Synopsis:
War and Peace is a commendable attempt to boil down Tolstoy's long, difficult novel into 208 minutes' screen time. In recreating the the social and personal upheavals attending Napoleon's 1812 invasion of Russia, $6 million was shelled out by coproducers Carlo Ponti, Dino de Laurentiis and Paramount Pictures. Some of the panoramic battle sequences are so expertly handled by second-unit director Mario Soldati that they appear to be Technicolor-and-Vistavision newsreel footage of the actual events. Still, the film falters dramatically, principally because of a lumpy script and King Vidor's surprisingly lustreless direction. In addition, the casting is wildly consistent: for example, while Audrey Hepburn is flawless as Natasha, Henry Fonda is far too "Yankeefied" as the introspective Pierre. Proving too long and unwieldy for most audiences, War and Peace died at the box office; far more successful was the epic, scrupulously faithful 1968 version, filmed in the Soviet Union.
More items to consider...