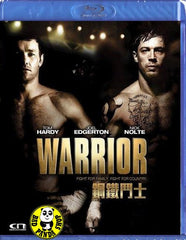 Region Coding: Region A (Locked)

Starring: 
Tom Hardy
Joel Edgerton
Nick Nolte
Jennifer Morrison

Director:
Gavin O'Connor

Audio Tracks: 
English DTS-HD Master Audio 7.1


Dolby Digital 5.1

Languages: 
English

Subtitles:


Traditional Chinese (NO English subs)

Running Time: 
140 minutes

Distributor:
CN Entertainment

Release Date:
2 Mar 2012

Synopsis:


Warrior is a modern day Rocky - a story of two estranged brothers (whom is an ex-marine, the other is a school teacher) competing for the love of their father, the respect of their peers, the survival of their families and the redemption of their past. They both start fighting MMA, and must eventually come to terms with why they are estranged from one another.
More items to consider...