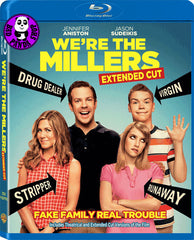 Region Coding: Region A (Locked)

Starring:
Jennifer Aniston
Jason Sudeikis
Will Poulter
Emma Roberts

Director:
Rawson Marshall Thurber

Audio Tracks: 
DTS-HD Master Audio 5.1, Dolby Digital 5.1

Languages: 
English, Russian, Thai, Ukrainian

Subtitles:
English, Traditional Chinese, Simplified Chinese, Korean, Thai, Russian, Arabic, Turkish, Ukrainian

Running Time: 
119 minutes

Distributor:
Warner / Manta Lab

Release Date:
30 Dec 2013

Synopsis:
Small-time pot dealer David Clark (Jason Sudeikis) must become a big-time drug smuggler, and devises a foolproof plan. He convinces his neighbors - stripper Rose (Jennifer Aniston), loser Kenny (Will Poulter) and runaway Casey (Emma Roberts) - to create a fake family. With one huge RV and a ton of laughs, the "Millers" head south of the border for a Fourth of July weekend that is sure to end with a bang.
More items to consider...