We Were There: First Love 相愛的約定 - 前篇 (2012) (Region 3 DVD) (English Subtitled) Japanese Movie a.k.a. Bokura ga ita Zenpen
$15.99 USD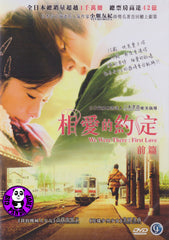 Region Coding: Region 3 (Locked)

Starring:
Toma Ikuta
Yuriko Yoshitaka
Sousuke Takaoka
Yuika Motokariya
Manami Higa

Director:
Takahiro Miki

Audio Tracks: 
Dolby Digital 5.1 Surround

Language: 
Japanese

Subtitles:
English, Traditional Chinese

Running Time: 
117 minutes

Distributor:
Edko Films Ltd. (HK)

Release Date:
20 Aug 2014

Synopsis:
"We Were There" follows the 10 year romance between Motoharu Yano (Toma Ikuta) & Nanami Takahashi (Yuriko Yoshitaka). During their high school days, Motoharu Yano was the most popular boy in school, but can't get over the death of his girlfriend from a car crash. Nanami Takahashi falls in love with Motoharu Yano and must deals with his inability to let go of the past.



More items to consider...