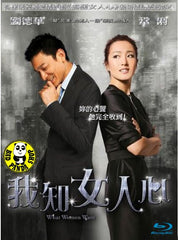 Region Coding: Region A (Locked)
Starring: 
Andy Lau
Gong Li
Chan Chi Pang
Hu Jing
Li Cheng Ru
Russell Wong
Anya
Yuan Li

Director: 

Chen Da Ming

Audio Tracks: 
Dolby TrueHD 7.1, Dolby Digital EX 6.1, THX Surround EX

Languages: 
Cantonese, Mandarin

Subtitles: 
English, Traditional Chinese

Running Time: 
116 minutes
Distributor:
Panorama (HK)

Release Date:
21 April 2011

Synopsis:
"What Women Want" is a romantic comedy based on the 2000 Hollywood rom-com of the same name, starring Mel Gibson and Helen Hunt. Revolving around a chauvinistic executive Fred (Andy Lau) who gains the ability to hear what women are really thinking - including his workplace rival, an aggressive advertising executive Ellen (Gong Li). Using his newfound ability to his advantage, he comes an expert on female psychology - and romance blossoms.
More items to consider...