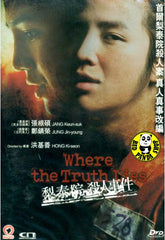 Region Coding:
Region 3 (Locked)

Starring: 
Jang Keun Suk
Jung Jin Young
Shin Seung Hwan
Song Joong Ki

Director: 

Hong Ki Sun

Audio Tracks: 
Dolby Digital Surround 5.1

Languages: 
Korean, Cantonese

Subtitles: 
English, Traditional Chinese

Running Time: 
99 minutes

Distributor:
CN Entertainment Ltd.

Release Date:
08 Dec 2011

Synopsis:
Based on a true 1997 murder case in Korea.
"I'll show you something cool, come with me. " On the night of April 8, 1997, an innocent college student was brutally murdered in a burger shop washroom for no apparent reason. 2 Korean-American teenagers are brought for questioning an dare charged with withholding evidence. Neither are remorseful for their heinous crimes and blame each other for the killing. During their trial the court discovers that the perpetrators were high on drugs and the victim was killed for fun and the thrill of killing. The prosecution must uncover the real truth behind this horrendous random act of violence and bring justice to the victim's family.
More items to consider...