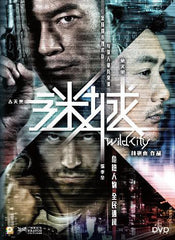 Region Coding: Region 3 (Locked)

Starring:
Louis Koo
Shawn Yue
Joseph Chang
Chang Hsiao Chuan
Tong Liya
Simon Yam

Director:
Ringo Lam

Audio Tracks: 
Dolby Digital EX

Languages: 
Cantonese, Mandarin

Subtitles:
English, Traditional Chinese, Simplified Chinese

Running Time: 
- minutes (TBA)

Distributor: 
Panorama (HK)

Release Date:
30 Oct 2015

Synopsis:
Bar owner and ex-cop T-Man (Louis Koo) stops drunk customer Siu Yuen (Tony Liya) from driving one night but that act of kindness spirals into violence for both when crooked lawyer George (Tse Tin Wah) deploys his thugs against them to retrieve a case of dirty money. Man's hot-headed taxi driver stepbrother Chung (Shawn Yue) wants to do the right thing, but is distracted by the money in the briefcase.

More items to consider...