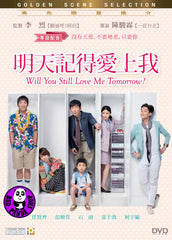 Region Coding: Region 3 (Locked)

Starring:
Richie Jen
Mavis Fan
Stone
Kimi Hsia
Lawrence Ko
Wong Ka Lok

Director:
Arvin Chen

Audio Tracks: 
Dolby Digital EX

Languages: 
Mandarin, Cantonese

Subtitles:
English, Traditional Chinese, Simplified Chinese

Running Time: 
- minutes (TBA)

Distributor:
Panorama (HK)

Release Date:
29 Nov 2013

Synopsis:
Every wedding photo book exudes sweet romance between the newly-weds. Feng and Weichung's was no exception. People have always deemed them a match made in heaven. They were each other's childhood sweethearts, and their puppy love eventually blossomed into a relationship which led them to walk down the aisle at just the right time. Shortly afterwards, they had their son Awan, and it seemed like the young family of three would live happily ever after.

"I am definitely the happiest woman in the world" Feng thinks to herself every morning when she wakes up. Until one day, she notices Weichung's increasingly unusual behavior, and fears that he might leave her some day and takes away everything. Meanwhile, her sister-in-law, Mandy, also has her own relationship problems with her fiancé, San-San. When Mandy goes shopping with him in a super market one day, she suddenly has a feeling that their relationship might end up in a rut of habitual dependence. Consumed by her insecurity and anxiety, she then decides to bail on him right after their engagement ceremony. What does love and happiness mean? How good it would be if we could keep loving someone forever, until the end of time?



After his first feature, Au Revoir Taipei, Arvin Chen teamed up with executive producer Lieh Li to make this warm and affectionate film. Will You Still Love Me Tomorrow? defies the clichés of romantic comedies and tackles the dilemmas and conundrums in the relationships and lives of modern men and women.


More items to consider...