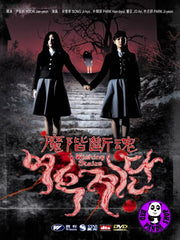 Region Coding: Region Free
Starring:
Song Ji Hyo
Park Han Byul
Jo An
Park Ji Yeon

Director:

Yoon Jae Yeon
Audio Tracks:
DTS 5.1
Dolby Digital 5.1

Languages:
Korean

Subtitles:
English, Traditional Chinese, Simplified Chinese

Running Time:
97 minutes

Distributor:
Winson Entertainment Distribution Ltd. (HK)

Release Date:
3 Apr 2008

Synopsis:
In a female boarding high school, there is a mysterious stairway with twenty eight steps near the dormitory. The twenty ninth step will appear when someone reaches the end of the stairway. If you make a wish at that particular moment, your wish will be granted. Yet, peculiar things will ensue. So-hee and Jin-sung are very good friends initially, and they support each other. They get trained together at a ballet team at school. Because of Jin-sung's ambition, their relationship begins to fade. Meanwhile, there is a great opportunity to further study at a famous ballet school in Russia, but only one ballerina can go. In order to get the spot, Jin-sung approaches to the eerie stairway and makes a wish in the hope of beating So-hee. Eventually her wish is granted, and she is able to go to Russia. Nevertheless, in return, So-hee tumbles on the stairway, and then dies afterwards. Subsequently, their classmate Hye-joo reaches the stairway to make a wish that So-hee can resurrect from death, but Hye-joo is possessed by So-hee. From then on, terrifying incidents happen one after another…
More items to consider...