Wolf Children (2012) (Region 3 DVD) (English Subtitled) Japanese movie a.k.a Ookamikodomo no Ame to Yuki
$18.99 USD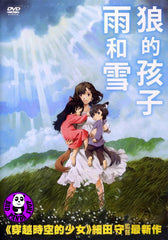 Region Coding: Region 3 (Locked)

Starring:
Animation

Director:
Hosoda Mamoru

Audio Tracks: 
Dolby Digital 2.0, DTS Digital Surround

Languages: 
Japanese, Cantonese

Subtitles:
English, Traditional Chinese

Running Time: 
117 minutes

Distributor:
Asia Video Publishing (AVP) HK

Release Date:
17 April 2013

Synopsis:

A feature animation directed by Hosoda Mamoru, whose The Girl Who Leapt Through Time and SUMMER WARS won numerous awards in Japan and abroad. It follows thirteen years in the lives of a mother and her "wolf children." College student Hana meets a young "wolf man", and falls in love with him. Eventually, she gives birth to two "wolf children," Yuki and Ame, but tragedy strikes the family soon after when the "wolf man" dies. Left to care for their two young children, Hana makes up her mind to raise them in the remote countryside so that they may choose whether to live as humans, or wolves.
More items to consider...