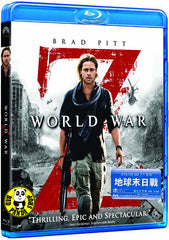 Region Coding: Region A (Locked)

Starring:
Brad Pitt
Matthew Fox
Mireille Enos
James Badge Dale
David Morse
David Andrews

Director:
Marc Forster

Audio Tracks: 
DTS-HD Master Audio 7.1

Languages: 
English

Subtitles:
English, Traditional Chinese, Simplified Chinese, Thai

Running Time: 
115 minutes

Distributor:
Intercontinental Video Ltd. (IVL) HK

Release Date:
11 Oct 2013

Synopsis:
The story revolves around United Nations employee Gerry Lane (Pitt), who traverses the world in a race against time to stop the Zombie pandemic that is toppling armies and governments and threatening to decimate humanity itself. Enos plays Gerry's wife Karen Lane; Kertesz is his comrade in arms, Segen.
More items to consider...