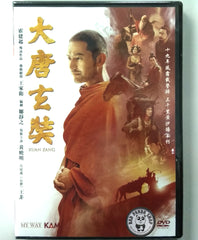 Region Coding: Region 3 (Locked)

Starring: 
Huang Xiaoming 黃曉明
Winston Chao 趙文瑄
Xue Zhongrui 薛中銳
Tan Kai 譚凱
Xu Zheng 徐崢

Director: 
Huo Jianqi 霍建起 

Audio Tracks:
Dolby Digital 

Languages:
Mandarin 國語 

Subtitles:
English, Traditional Chinese 繁體中文字幕, Simplified Chinese 簡體中文字幕 

Running Time:
120 minutes 

Distributor:
Kam & Ronson Enterprises Co., Ltd. (HK) 

Release Date:
23 July 2020

Synopsis:
It is the 3rd year of the Zhenguan Period of Tang Dynasty, 629 A.D. Buddhism is flourshing but with a  lack of original texts, and many contradictory translations, no one can say for sure what is that true path. The 27-year-old monk Xuanzang defies the emperor's ban on westward travel and strikes out alone from the Tang capital of Chang'an for the homeland of the Buddha. His journey takes him across harsh mountains and into vast and desloate deserts. Without water, pushed to the absolute limits of endurance, he nearly dies. What's more, at every pass and town along the way there is a warrant for this arrest. This faith sustains him in hardship - and convinces those.

Finally, he reaches the most important temple of its time, Nalando. He spends five years there, studying dharma (Buddhist law) with the learned elder, Silabhadra. He travels widely, and wins a famous theological debate that has gone down in the history of religion. After nineteen years away, in 645 A.D., Xuanzang returns to Chang'an with hundreds of Buddhist relics, statues and sutroas, ensuring Buddhism's future in its new homeland.

唐朝貞觀三年(西元629年)27歲的僧人玄奘決定去天竺佛國求法。因未獲得皇上恩准,同行者退卻,玄奘獨自上路。一路向西,跋山涉水,穿越沙漠,逢凶遇難、涉險闖關。歷程13800餘裡。玄奘完成了一次偉大的獨行。終於到達他心中的佛教聖地--那爛陀寺。玄奘在那爛陀寺度過了五年,師從戒賢,研習佛法。後在印度遊歷,且行且思。戒日王在曲女城召開佛學辯論會,玄奘講論,無人能予以詰難。成為當時宗教、文化、思想碰撞與交流的佳話。貞觀十九年(645年),玄奘回到長安,帶回佛舍利150粒、佛像7尊、經論657部。玄奘的所有經歷與艱辛,都因最終的堅持具有了非凡的意義,從而佛教得以薪火相傳,發揚光大。

More items to consider...