Love Is A Crazy Thing (2005) (Region Free DVD) (English Subtitled) Korean movie a.k.a. Hotline
$24.99 USD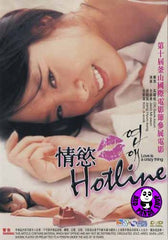 Region Coding:
Region Free

Starring: 
Jeon Mi-seon
Jang Hyun-sung
Kim Ji-sook

Director: 
Oh Seok-keun

Audio Tracks: 
Dolby Digital 5.1

Languages: 
Korean

Subtitles: 
English, Traditional Chinese, Simplified Chinese

Running Time: 
100 minutes

Distributor:
Sky Entertainment Distribution Ltd. (HK)

Release Date:
1 Mar 2007

Synopsis:
Au-jin is a homemaker living in the suburbs of Pusan, and she raises her two sons by herself. Since she is unable to make money answering an adult sex adult sex hotline, she grasps at an opportunity to become a hostess at a night club. At first, Au-jin is not used to this kind of job, but she has to give in when it comes to making a living for her family. Then she meets a handsome guy called Min-soo at work. While time goes by, their relationship becomes closer, and she falls in love with him. At the end of the day, Au-jin cannot get out of it and has no choice to carry on her absurdity.
More items to consider...