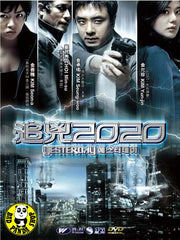 Region Coding: Region Free
Starring:
Kim Sun Ah
Choi Min Soo
Kim Yoon Jin
Kim Seung Woo

Director:

Jeong Yun Su
Audio Tracks:
Dolby Digital

Languages:
Korean

Subtitles:
English, Traditional Chinese

Running Time:
120 minutes

Distributor:
Winson Entertainment Distribution Ltd.(HK)

Release Date:
09 April 2009

Synopsis:
In 2020, Suk is a special investigator dispatched to the border between China and a unified Korea. A year earlier, his son was kidnapped and accidentally killed in a failed rescue mission. Still suffering from memories of the mistakes he made with tht case, he is assigned to the kidnapping case of the investigation. They set about on a hunt for the serial killer, and find that every victim happened to wear the same pendant. They find that the ideas for his crime techniques were copied out of a psychologist's thesis....
More items to consider...