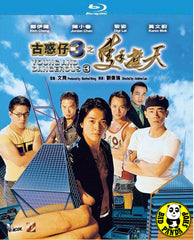 Region Coding: Region Free

Starring:
Ekin Cheng
Gordon Chan
Gigi Lai
Karen Mok
Michael Tse Tin Wah
Anthony Wong
Roy Cheung

Director:
Andrew Lau

Audio Tracks: 
Upcompressed PCM 2.0

Languages: 
Cantonese, Mandarin

Subtitles:
English, Traditional Chinese, Simplified Chinese

Running Time: 
- minutes (TBA)

Distributor: 
Vicol Entertainment Ltd. (HK)

Release Date:
21 Jan 2016

Synopsis:
The Hung Hing Club has just made Chan Ho Nam (Ekin Cheng) the "keeper" Causeway Bay. But, Dong Ying Club, Crow and Tiger open a karaoke club opposite to Chan's sticking a foot into his territory. On the other hand, Dong Ying succeeds in having Chang assassinated in Holland and frame Chan for his death.  It's another challenge to Chan!

More items to consider...