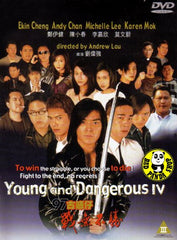 Region Coding:
Region Free

Starring: 
Ekin Cheng
Jordan Chan Siu Chun
Roy Cheung


Jerry Lamb Hiu Fung


Jason Chu Wing Tong
Michael Tse Tin Wah
Spencer Lam
Pinky Cheung

Director: 
Andrew Lau Wai Keung


Audio Tracks: 
Dolby Digital

Languages: 
Cantonese, Mandarin

Subtitles: 
English, Traditional Chinese


Running Time: 
109 minutes

Distributor:
Mei Ah Entertainment (HK)

Release Date:
19 Sept 1997

Synopsis:

The boss of Hung Hing Gang, Tian Sang, has passed away. Ho Nam and Ho Bun go to invite Tian Yan, the younger brother of Tian Sang to take charge of the gang. Meanwhile, Hon Bun receives the news that his kid brother, the Tuen Mun gang boss Hung Long, is murdered. They return to Hong Kong to settle the matter. Ho Nam recommends Shan Gai to succeed Hung Long. North Point gang boss Fat Lai supports Sang Fan int he power struggle with Shan Gai. Tian Yang gives the two one month to demonstrate their ability. The one who can establish the authority of Hung Hing Gang in Tuen Mun will mount the throne...
More items to consider...