Zebraman 2 - Attack On Zebra City (2010) (Region 3 DVD) (English Subtitled) Japanese movie
$14.99 USD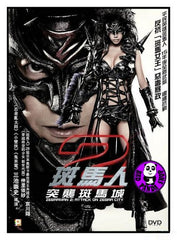 Region Coding: Region 3 (Locked)
Starring: 
Sho Aikawa
Naoki Tanaka
Abe Tsuyoshi

Director: 
Takashi Miike


Audio Tracks: 
Dolby Digital 5.1

Languages: 
Japanese

Subtitles: 
English, Traditional Chinese

Running Time: 
107 minutes

Distributor:
Panorama (HK) Distributions

Release Date:
13 Jul 2012

Synopsis:
2025, fifteen years has passed since the incidents of "Zebraman", and Tokyo has now been renamed as "Zebra City",to be governed by the sexy singer Zebra Queen - the daughter of the current governer. A time system called "Zebra Time" is implemented. During "Zebra Time" - 5 minutes at 5:00 AM and 5:00 PM each day, the law permits any and all criminal acts and allows police and people in power to shoot anyone. Potential criminals, as well as the sick and elderly and people living on pensions are annihilated.

Shinichi Ichikawa, also known as Zebraman, survives from the attack but loses all his memories. Later, he encounters a little girl who grows black and white pansies. Once he brushes up against her, his body is covered with black and white stripes and he remembers that he is the Zebraman! The awakened Zebraman must team up with a fake Zebraman from TV and a young protege to fight against the evil Zebra Queen and her Zebra Police, whose ultimate plan is to utilize the strange aliens from 2010 to apply the Zebra Time to the whole world.
More items to consider...